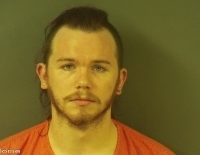 PUTNAM COUNTY, Ind – Saturday just before 1 p.m. (4/14/18) Indiana State Police were dispatched to 314 Someday Way near Cloverdale for a report of two small children playing in the street wearing only underwear.
Police say that the father had picked up the boys that were two and three years old before they arrived.
Officers say that they found that the home that children were living in had soiled and stained carpets, filthy kitchen and living areas, trash and soiled diapers lying about, remnants of old food scattered around the home, sharp kitchen instruments within reach of the children, inadequate bathroom facilities, the overwhelming smell of urine and feces, and many other miscellaneous unhealthy and dangerous environmental hazards.
A four-month-old male who had the same mother as the other children, was also found in the residence in a similar condition.
The father, 24-year-old Robert J. Henline, was taken into custody on a preliminary charge of felony Neglect of a Dependent.
The 26-year-old mother of the three who was unidentified by police, assisted the Department of Child Services with relocation of the children to a safer environment and is expected to be summoned into Putnam County Court on similar charges.
The children were not hospitalized and are currently in the care of adults appointed by Department of Child Services.