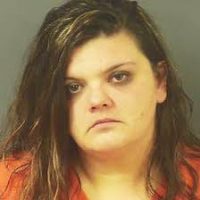 PUTNAMVILLE, Ind. –  A Sullivan woman was arrested at the Putnamville Correctional Facility after police say she tried to traffic in drugs with an inmate.
The Indiana Department of Correction says Christina Pupo was visiting Christopher Webster in the jail when officials learned that she was planning to smuggle drugs in.
Investigators say that they observed her hide an object in some food she had purchased for Webster and stopped her before she could give it to him.
Police say the package contained 26 orange strips believed to be Suboxone.
Pupo was arrested on a felony charge of trafficking a controlled substance.