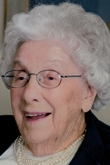 Gwendolyn Ruth Greene (nee Ray) of the Villages of Avon, Avon, IN,
died  March 14, 2017, aged 97.  She was born to Paul Ray, Sr. and Esther Grimes Ray
on October 30, 1919 in Cayuga, IN.    Gwendolyn was preceded in death by her husband, David, her parents, a sister, Velma, and brothers, Paul, Jr., and Glenn Malcolm.  She is survived by four children: Lynda Meyer, Karin Johansson (Joe), Jennifer Duncan (Howard), and Charles Greene.
Her nine grandchildren include:  Joanna Meyer and Kirsten Meyer Lasinski (Richard);
John-Joseph Johansson (Anne) and Ann Johansson; Sarah Duncan Buckley (Ryan) and
Amy Duncan Patino (Patrick); Nicole Greene Chasen (Jeremy), Alexandra Greene, and
Jennifer Greene Burton (Simon).  She leaves seven great grandchildren.
Gwendolyn graduated as valedictorian from Tangier High School (Parke County)
in 1937.  She was a 1944 graduate of the Moody Bible Institute in Chicago, IL.  She
married  David Greene of Renovo, PA, June 24, 1945.  She and David left for missionary
service  under The Evangelical Alliance Mission in Southern Africa in April, 1946.
David and Gwendolyn served for almost 40 years in South Africa and Swaziland,
Gwen supporting Dave in a ministry of church planting and development and theological
education at the Union Bible Institute where Gwen was Choir Director, Librarian,
Dietician and "nurse".  When Dave became Chairman of TEAM's South
Africa/Swaziland fields, Gwen served as hostess at the mission headquarters in
Johannesburg, entertaining a constant flow of visitors:  missionaries and their families,
mission officials and local pastors.  She and Dave retired in 1985 to Rockville in Parke
County where Gwen continued to assist Dave as pianist in his interim pastorates.
Gwen was a charter member (1937) of the Waterman Baptist Church, Lodi, IN.
Memorial Services  will be held at 2:00 p.m.  Saturday, March 18 , in the Waterman Baptist Church at Lodi, with Pastor John Goldfuss officiating.  Care and arrangements entrusted to Gooch Funeral Home, Rockville.  Friends my sign an online guest register at www.goochfuneralhome.com